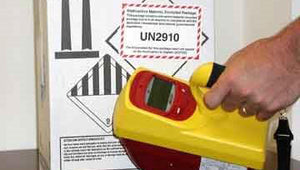 As someone involved in the shipment of radioactive material, which are considered a "hazardous material," it is your responsibility to assure that the material is properly packaged, declared, labeled, or otherwise prepared in accordance with governmental and industry regulations and requirements. You are a hazardous material (HAZMAT) employee.
If you perform any of the following activities, then you are considered a hazardous material (HAZMAT) employee and require training:
• Loads, unloads, or handles HAZMAT
• Tests, reconditions, repairs, modifies, marks, or represents packaging as qualified for use in the transportation of HAZMAT
• Prepares HAZMAT for transportation
• Is responsible for safe transportation of HAZMAT
• Operates a vehicle used to transport HAZMAT This course is intended for workers who require training on the shipment of limited quantity radioactive materials and are already knowledgeable in fundamentals of radiation and radioactivity.
This course has been designed to assure that students receive general awareness and familiarization training, function specific training concerning the preparation for shipment and movement of radioactive materials, general safety training, and security awareness training.
This course provides training to help meet training requirements specified in Title 49 Code of Federal Regulations (CFR), Part 172, Subpart H of the U.S. Department of Transportation, and regulations of the U.S. Nuclear Regulatory Commission (NRC), Agreement States, and other governmental agencies. The responsibilities for HAZMAT safety are shared by everyone who handles HAZMAT shipments, from the shipper to the carrier. Training is the best means of preventing hazardous material incidents and HAZMAT Safety begins with you!