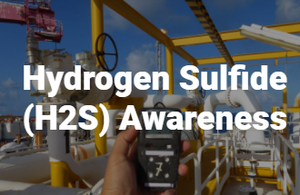 The Hydrogen Sulfide Awareness course is essential for oil and gas workers who work around, or may be exposed to, Hydrogen Sulfide gas. This training is also known as H2S and helps fulfill the training requirements for OSHA 29 CFR 1910 and 1926, ANSI Z390.1, Accepted Practices for Hydrogen Sulfide (H2S) Training Programs, and other regulatory standards.
Information regarding the hazards of Hydrogen Sulfide gas, exposure prevention, and responding to events will be covered in this training. Your company should provide additional training on the use of personal protective equipment (PPE) and procedures that are specific to your work.
The objectives of this training is to meet the Federal OSHA HAZWOPER training requirements of OSHA 29 CFR 1910 and 1926 and ANSI Z390.1.
Course Objectives:
Hazards of exposure;
Symptoms of exposure;
Methods to protect themselves from exposure;
Methods of detecting the gas; and
How to respond to exposure to the gas.