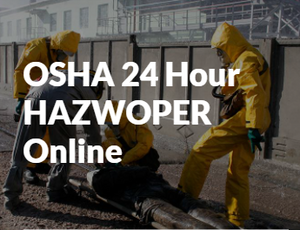 The 24 Hour HAZWOPER course is meant for workers who do not require the complete 40 Hour HAZWOPER training. This training will provide a thorough overview of the equipment requirements for HAZWOPER workers but does not require the hands-on training. The objectives of the OSHA 24 Hour HAZWOPER Online course are to meet the Federal OSHA HAZWOPER training requirements of 29 CFR 1910.120(e)(3)(ii) for general industry and 29 CFR 1926.65(e)(3)(iii) for construction.
 This training will provide:
OSHA and the HAZWOPER Regulation and other laws related to the HAZWOPER worker;
Provide the training requirements for HAZWOPER workers;
Outline the importance of an effective Health and Safety Program;
Describe the components of an effective Medical Surveillance Program;
Identify site hazards and implementing steps to minimize these hazards by performing site characterization;
Recognize hazardous substances and research their hazards utilizing various reference sources;
Provide basic toxicology principles and how they relate to chemical exposure;
Select and utilize proper personal protective equipment (PPE) related to the HAZWOPER worker;
Medical considerations of wearing Chemical Protective Clothing (CPC);
Decontamination methods and the principles of decontamination;
Physical and chemical properties of hazardous substances;
Importance of emergency preparedness;
Confined spaces;
OSHA Hazardous Communication Standard;
Hazardous substance spill and containment techniques;
Sampling methods and procedures; and
Detection and monitoring tools available to the HAZWOPER worker.