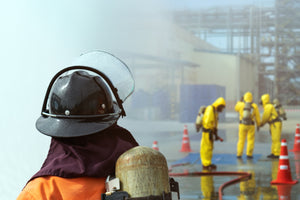 This OSHA 40 hour HAZWOPER training is all online and is intended for those who perform post emergency response activities involving hazardous substances. and includes hazard recognition, exposure limits, and risk evaluation for chemical and general site safety concerns. Learn about the technology and methods available to monitor and detect hazardous materials, learn how to control, and contain chemical spills, form a decontamination process, and select and use worker protective equipment, among several other topics.
Those who take this HAZWOPER training entirely online are those workers who will also receive follow-up instruction with site-specific equipment training, which will be conducted by their employer, or those who require 40 hour HAZWOPER training but will not be using any equipment at their work site.
Although convenient, the 40 Hour HAZWOPER Online training does not allow students the active experience or capability to handle the tools and equipment that are used by HAZWOPER worker. On-site, job-specific equipment training that is provided by the employer is necessary to fulfill the HAZWOPER requirement. We also provide the OSHA 40 Hour HAZWOPER Combo course that includes hands-on instruction.
The most important piece in all situations is that employers need to ensure their employees are sufficiently trained to accomplish the tasks at hand.
Students will complete this course entirely online. Instead of in-person, hands-on training, students are given over 100 short video clips that replicate one of our 8-hour hands-on sessions. The video clips display the HAZWOPER equipment, and students will have the ability to replay and review the videos as many times as they need.

Course Objectives
The objectives of the OSHA 40 Hour HAZWOPER are to fulfill the Federal OSHA HAZWOPER training requirements of 29 CFR 1910.120(e)(3)(i) for general industry and 29 CFR 1926.65(e)(3)(i) for construction. This course also meets any HAZWOPER training requirements that are needed for the EPA and State OSHA regulations.