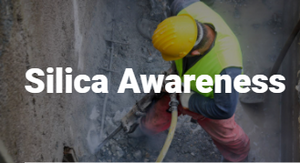 The Silica Awareness for Construction Online training gives a general awareness and overview of the risks associated with working around materials containing silica, as well as the regulatory requirements for protecting employees as required by OSHA.
Respirable exposure to crystalline silica can cause silicosis, lung cancer, other respiratory diseases, as well as kidney disease. Using construction tools such as grinders, drills, masonry saws, etc., can expose workers to silica.
Learning Objectives
Define what respirable crystalline silica is;
Identify where respirable crystalline silica is encountered;
Understand the definitions and the hazards associated with silica dust and silica dust exposure;
Explain the different ways workers are exposed to silica dust;
Describe the health effects of silica dust exposure;
Explain the essentials of OSHA's respirable crystalline silica Standard for Construction;
Identify and describe OSHA methods of compliance to prevent silica dust exposure; and
Explain how workers and employers can avoid silica dust hazards through engineering controls, work practices, and personal protective equipment.